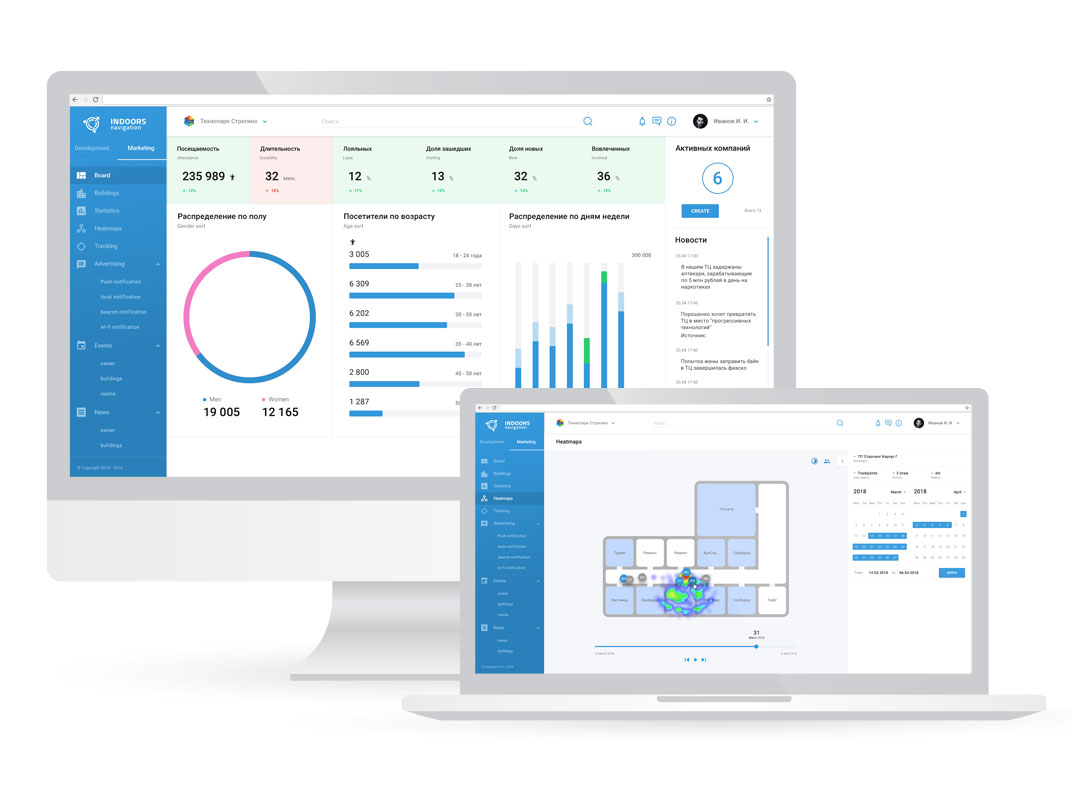 Platform
Indoors Navigation's solution is a universal platform for cloud management that solves a wide range of tasks related to the location of a mobile device (or tracker) inside a building.
Access to the platform is provided through a web browser or desktop application for OS X, Windows and Linux.
Information about the software cost will be available after
sign up
The platform consists of three spaces and mobile tool of developer
Developer board
Developer Dashboard for creating and customizing mobile applications.
Marketing board
Analytical and marketing tools for facility management.
Profile board
User's account: photo, first name, last name, gender, age, hobby, preferences, country, region, city, address, social networks, settings.
Mobile Developer Tool
Application for measuring the level of beacon signals and database updates.
Build own mobile app using our development tools.
Using our highly accurate room navigation service in your iOS and Android applications is possible with the integration of the SDK and API. It also allows developers to access the marketing and analytical part of the service in a short time. There is detailed documentation.

iOS SDK
Improve own application with the wide functionality provided by our solution, unlocking new possibilities for users.

Android SDK
Use our templates and create own applications with indoor navigation function, analytics and marketing.
Documentation
We provide information on all the capabilities of our platform with a detailed description of API and SDK integration.
Support
To save the time of developers, we provide technical support 24/7.
Order a call back!
Leave the application and we will contact you in 5 minutes